With the festive season on the horizon, the Morning After campaign is urging revellers to be mindful of the risk of driving while still over the limit the morning after drinking alcohol.
During the busy period for socialising between now and the end of the year, the risk of unwittingly being over the drink drive limit the morning after a heavy night is perhaps at its greatest.
With this in mind, the 2017 Morning After festive drink drive campaign urges drivers to make sure a party popper is the only thing they are invited blow into over the coming weeks.
Founded in 2009, the Morning After campaign website received more than 800,000 visits in 2016, and the Morning After calculator app has received more than 23,000 installations on iPhone alone.
The Christmas 2017 campaign resources include an A4 poster, A6 postcard and a wallet sized drink drive information card – all of which are available for local authorities to purchase.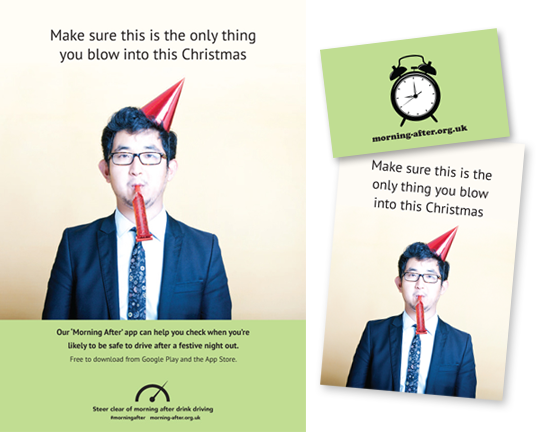 Simon Rawlings, Morning After campaign manager, said: "It takes much longer than most people think for alcohol to pass through the body, which means there is often a danger of people unwittingly driving while still over the legal limit the morning after drinking.
"We are urging people to plan ahead and arrange alternative transport if they have to travel to work, for the school run, or any other engagement the morning after festive celebrations.
"The penalties for being caught drink driving the morning after are exactly the same as at any other time – it's no excuse to say you thought you were fine to drive because of the length of time since your last drink."
The digital artwork can be provided for only £299 for local authorities that have previously participated in the campaign and £399 for authorities/organisations that are new to the campaign (both prices plus VAT).
This fee includes adding your logo and/or contact details, and tweaking the wording to suit your purposes. It also includes a code to embed the Morning After calculator on to your website.
For more information about the campaign, and how to participate, contact Simon Rawlings via email.