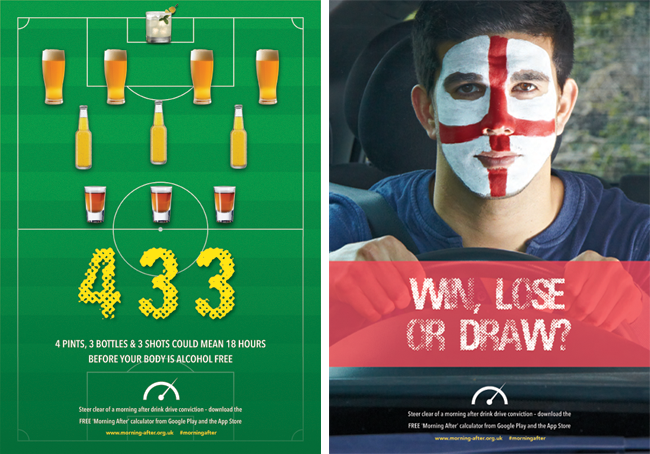 With a little over 11 weeks to go until the start of the 2018 FIFA World Cup (and 13 weeks until England's inevitable early exit) we are pleased to launch the 'Morning After' 2018 World Cup campaign – including details of the resources available to road safety teams and other stakeholders.
Established in 2006, the Morning After campaign provides a timely reminder to drivers of how long it takes for alcohol to pass through the body, in a bid to help them avoid unwittingly getting behind the wheel while over the limit the morning after drinking alcohol.
The campaign is backed by an established website (which received more than one million page views in 2017), an online calculator and a smartphone app – which to date has more than 23,000 downloads on iPhone alone.
The 2018 World Cup campaign
Despite England being the only home nation to qualify for the 2018 FIFA World Cup (14 June – 15 July), the quadrennial festival of football is set to capture the nation's imagination once again.
With a total of 64 games will take place across 32 days, supporters, friends and families will come together at home and in pubs and clubs to enjoy the matches – while consuming varying quantities of alcohol.
While the vast majority wouldn't dream of getting behind the wheel straight after drinking, awareness of the risk of morning after drink-driving is much lower.
This is where our campaign comes in.
The 2018 World Cup campaign resources include traditional items such as a pair of A4 posters (pictured above), A5 flyer and a wallet sized drink drive information card.
We will also supply artwork to share on social media, which this year will include a drink drive infographic.
The digital artwork pack can be provided for only £299 for local authorities that have previously participated in the campaign, and £399 for authorities/organisations that are new to the campaign (both prices plus VAT).
This fee includes adding your logo and/or contact details, and tweaking the wording (if required) to suit your purposes. It also includes a code to embed the Morning After calculator on to your website. We can also offer prices for printing the resources if required.
For more information about the campaign please contact Simon Rawlings by email or on 01603 622743.