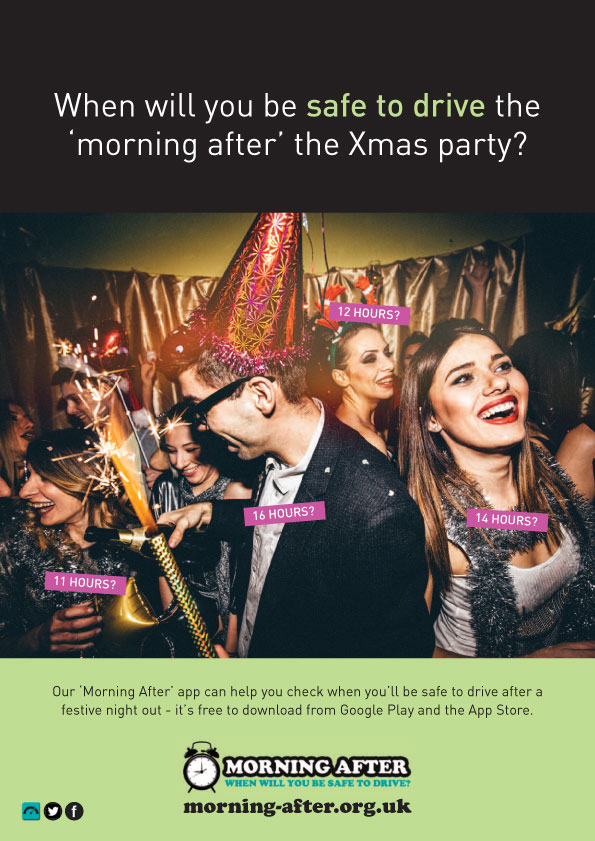 As Christmas approaches, the Morning After campaign is urging festive party-goers to be mindful of driving while still over the limit the morning after drinking alcohol.
Christmas parties are the norm in the lead up to 25 December, and during this busy period for socialising the danger of being over the drink drive limit the morning after a heavy night is at its greatest.
With this in mind, the Morning After drink drive campaign team is urging drivers to wise up to how long it takes for alcohol to pass through the body.
Founded in 2009, the campaign includes a website which has received more than 400,000 visits so far in 2016. In 2015, it launched a bespoke calculator app, which has received more than 17,000 installations on iPhone alone.
Data from the Government's THINK! campaign revealed that in 2013 an estimated 740 reported drink drive collisions took place in the morning, and around 5,500 people fail breath tests between 6am and midday every year.
The THINK! research also found that 58% of those surveyed (800 drivers) would have four or more drinks on a night out, and still sometimes take a risk by driving the following morning – with only a third (33%) aware they could still be over the limit.
The Christmas campaign encourages people to send the link to the free app to friends and loved ones to help them check when they will be safe to drive after a festive night out.
Simon Rawlings, Morning After campaign manager, said: "It takes much longer than most people think for alcohol to pass through the body which means there is often a danger of people unwittingly driving while still over the legal limit the morning after drinking.
"We are urging people to plan ahead and arrange alternative transport the morning after festive celebrations, if they have to travel to work, for the school run, or any other engagements.
"The penalties for being caught drink driving the morning after are exactly the same as at any other time – it's no excuse to say you thought you were fine to drive because of the length of time since your last drink."